Improvisation is a great way to strengthen bonds between people. A few of the key elements of good improvisation are listening, working together, building on each others ideas. These ideas are perfect for implementing in a business environment.
Impronet offers tailor made workshops, that will focus on bringing people closer together and making them work more efficiently.
Here are a few examples of workshops impronet could give to your company:
Team-building workshop
In this workshop people are challenged to work together in creating scenes, solving problems and off course having fun doing it. The goal is to make the participants work with the rules of impro in a fun and a easy way. At the end of this workshop the participants will now the basic rules of impro and also realize that the same rules apply in the work environment.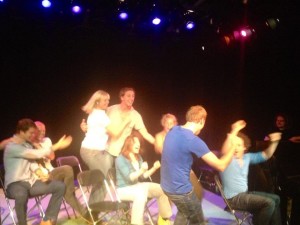 Presentation workshop
In this workshop participants will be working on presentation skills. The goal of this workshop is that participants will know how to deliver a good presentation. We will go over what the elements are that make a good presentation. We will work on verbal and nonverbal skills, and off course practice giving presentations. At the and of the workshop participants will be able to give a good presentation.
Tailor made workshop
Alongside your company we will develop a workshop that is suitable for the situation. Anything from "just for fun" to " playing substantive scenes" is possible.